About Us
Reno Off-Road is a Family Business
Thank you for visiting our online store. My name is Jason, and I hope to earn your business. We are small family owned business. Myself, my wife Marianne, and our two daughters. We are extremely passionate about what we do, the off-road industry, and how Reno Off Road can help you with top name brands at affordable prices. I will explain more on this below.
How Reno Off-Road Started

I started with a goal of helping customers get the quality parts they want, at prices they can afford. Because I too wanted quality parts, yet, my budget said otherwise. I recognized a need and have been doing my best to fill it.
I began in 2002, selling my VW and dirt bike parts on eBay. Parts I acquired throughout a lifetime and stored away in the garage, like many of us do. Then, buying off-road parts at scrap yards, and selling then on eBay. Until I was able to build Reno Off-Road.com that would one day become a leading off-road parts and accessories business.
To this day we still sell used parts and even used vehicles from weekend crawlers to competition trophy trucks.
Jeep & 4x4 Parts | Buggy & Sand Parts
Our family business, and our personal lives include these vehicles and parts. It is what we know, and continue to enjoy for over 30+ years.
Marianne drives a 1974 Jeep CJ5 (full width swap).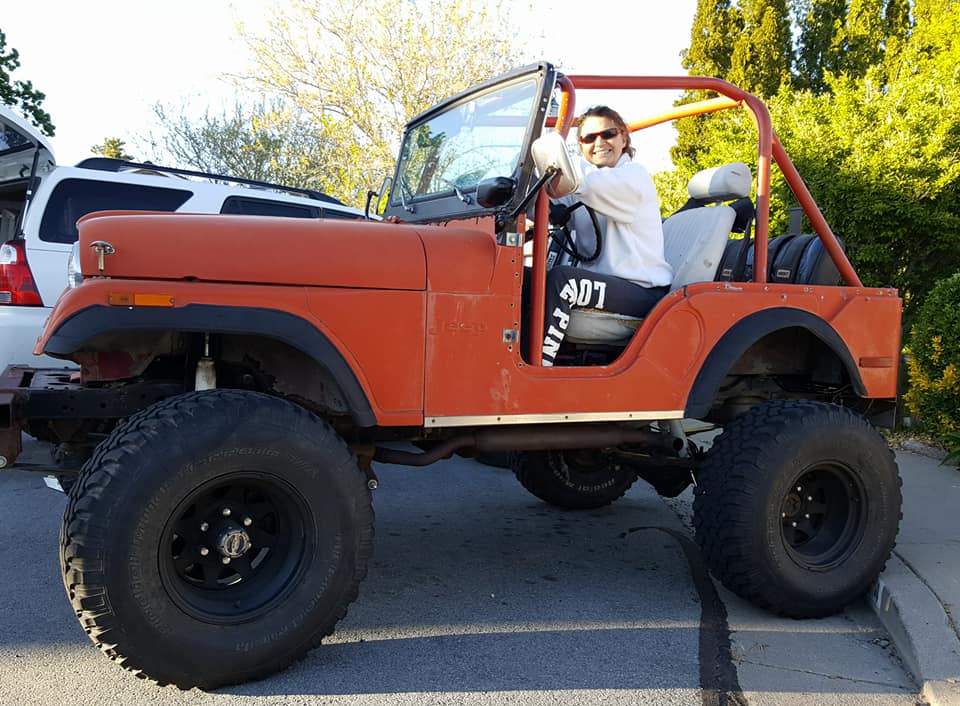 Jason drives a Chenowth dual sport mid-travel buggy.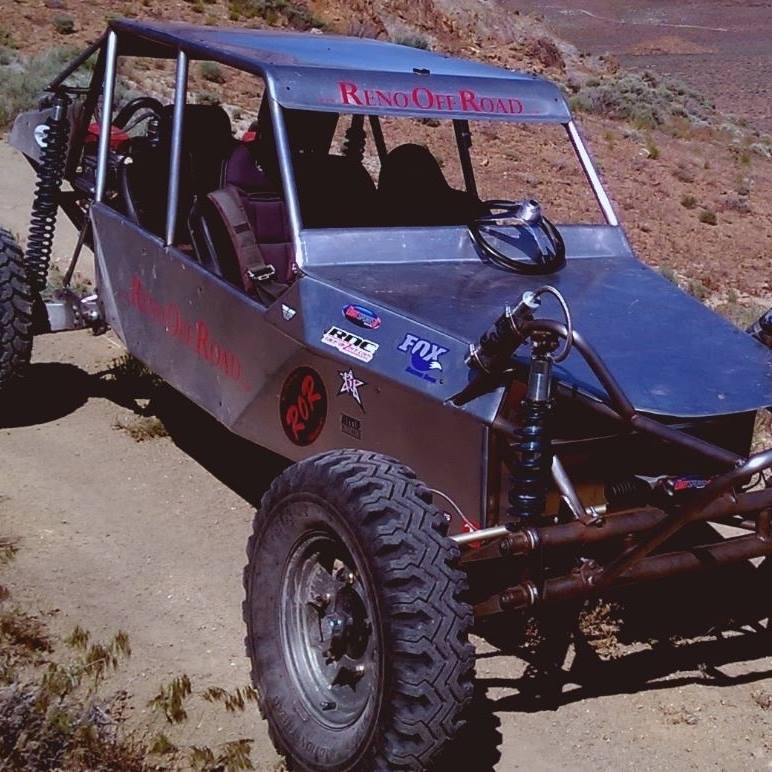 Siena Jolie, drives a 1968 California Clipper fiberglass buggy as her daily driver.
Raquella enjoys driving them all.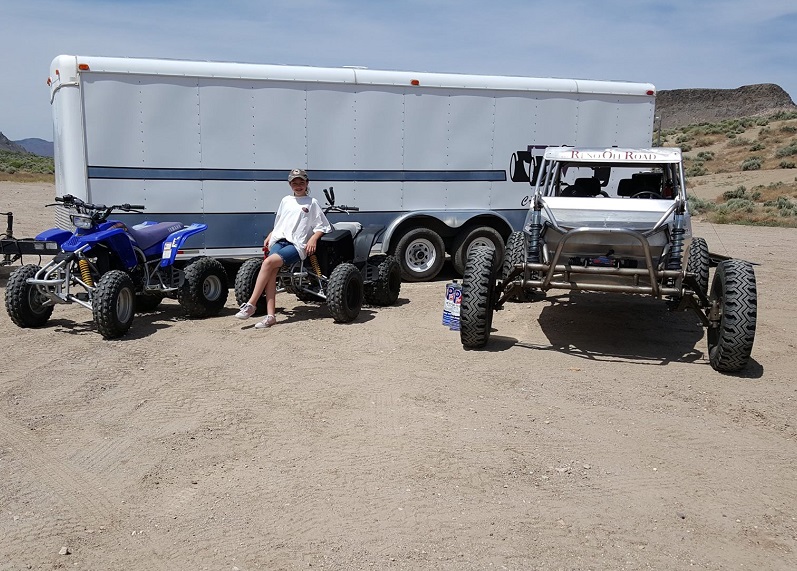 Delivery truck - RoR's parts delivery truck is a 1997 F350 crew cab diesel with a 8 inch lift, running 38" Toyos and more.
All of our toys are built with Reno Off-Road parts and accessories.
"We use what we sell"
Race & UTV Parts
Over the past 8 years, Reno Off-Road (Parts & Accessories) has grown with the industry, and added product lines based on our customers wants and needs. Racing and UTV is one of those areas.
We introduced Race Only parts, such as BFG Racing tires and our business started to grow faster than we were ready for. The same with UTV parts, and for that, Reno Off-Road is grateful. We have been excited to grow with the industry and fill this need. Our reviews from customers has confirmed our commitment, and keeps us focused.
Over 30+ Years' Experience
We have 30+ years' experience in the off-road industry. My family were members of NORRA (Nevada Off-Road Runners Association) & VORRA (Valley Off-Road Racing) over 30 years ago.
I have been active in the off-road industry since. I started riding at the age of 5. Raced in the desert with my parents in the late 70s through the 80s, in VW buggies. In the 90s I started racing desert on two wheels as well.
We now enjoy racing, pit-crew and chasing with friends at desert racing events. And as many off-road excursions as we can get.
As they say, with age comes the cage. But most importantly, we as a family spend our time enjoying the outdoors together.
Our Commitment to You
Security/Privacy - Your privacy is very important to us. Your personal information is secure. Your shopping experience is secured by GeoTrust. And we do not share, sell, or SPAM your information.
Quality – We strive to provide you with quality parts. Almost all our parts come with a manufacture warranty. We have a great return policy and are committed to product satisfaction.
Satisfaction – We want you to be satisfied with your parts, and experience with us. We work hard to ensure our customers are happy and become return customers. If you are ever unhappy with our service, we want to hear about it, so we can fix it.
Convenience – We take orders online, email, phone and text. Our online store has a one page check out process. And, we provide price quotes for parts you do not see online.
Great prices – We try to meet or beat our competition, local and online. Our online prices are already discounted. However, if you find the exact same part elsewhere, please contact us with the details, so we can do our best to try to meet or beat that price for you.
How We Provide Discounts
Our business is primarily online, so we have lower overhead costs than most competitors. We pass this savings to our customers.
We order parts direct from the manufactures, as well as the nation's largest wholesale company.
We ship from a warehouse closest to you. If not from Reno, Nevada, from one of the 14 cross-dock locations nationwide. As well as, direct from the manufacture.
We do not charge more for shipping than it cost us to get the parts to you.
Local Delivery
We offer convenient delivery to our local customer in the Reno, Sparks and surrounding areas. If you are local, you can order online and choose the local delivery option, or call us so we can schedule your delivery.
We Welcome Business-to-Business Opportunities.
We believe that a shared commitment to customers will help build the industry. So, we partner with many of our competitors doing B2B. If we do not have a part in stock, or visa-versa, we reach out to our friends/competitors to check on their stock. If they have it, we will purchase it from them, to ensure our customers get the product they want, on time. This helps us overcome back-order issues.
High Performance to Low Budget Parts.
For Race, Sand, Desert, Rock or Show.
We Use What We Sell.
We want to earn your business.
Get Social With Us
Thank you for taking the time to get to know us better.
Jason Baden